Often this is what the dietitian-nutritionist is faced with by a patient who possibly has type 2 diabetes, and does not say so. It goes with the idea of losing weight, wants guidance and structure a dietary guidelines, exercise and healthy lifestyle habits yes, but with the aggravating factor that possibly the patient has diabetes.
A few weeks ago, a fellow dietitian-nutritionist contacted me and confessed a certain perplexity and fear at the avalanche of overweight and obese people who were constantly coming to her office to request her intervention.
It was not only the weight that worried her, but many of these people reported that their "blood sugar was a little high". According to this colleague, all this made the approach of the dietitian-nutritionist that we have talked about in this blog on different occasions even more complex.
I wanted to know what was bothering her and among many other doubts she asked me the following: "sometimes they bring us a recent analysis with data that I often do not know how to interpret correctly".
I tried to give an answer to all this, with the explanation that I share with you. When we deal with the subject of "sugar" it is important to look at these two parameters that appear in many analyses: glucose and glycosylated hemoglobin. I have no doubt that all this is nothing more than a review of data, because I know that dietitians-nutritionists are well aware of these values.
Glucose:
refers to the level of "sugar" in the blood and it is interesting that it has been measured fasting and after collection of a venous blood sample. Above 100 mg/dl and up to 125 mg/dl we are talking about "altered basal glycemia". Some people consider this range to be between 110-125 mg/dl, but with figures above 100 mg/dl, always keep the alarm on and watch the evolution.
Glycosylated hemoglobin:
you can also find it with the acronym HbA1c, and it is a value considered as an average value of the glucose level that the patient has presented in the last 2-3 months (8-12 weeks). If this value is ≥ 5.7% and up to a maximum of 6.4% we will consider that we are dealing with an "altered basal glycemia" and we should be vigilant. It should be noted that some people establish this range between 6-6.4%.
If the patient's blood test shows glucose values ≥ 126mg/dl or glycosylated hemoglobin ≥ 6.5%, there is no doubt: we are dealing with diabetes mellitus.
I would like to take this opportunity to attach some material from the American Diabetes Association that graphically reviews what has been explained above: we are talking about prediabetes and diabetes.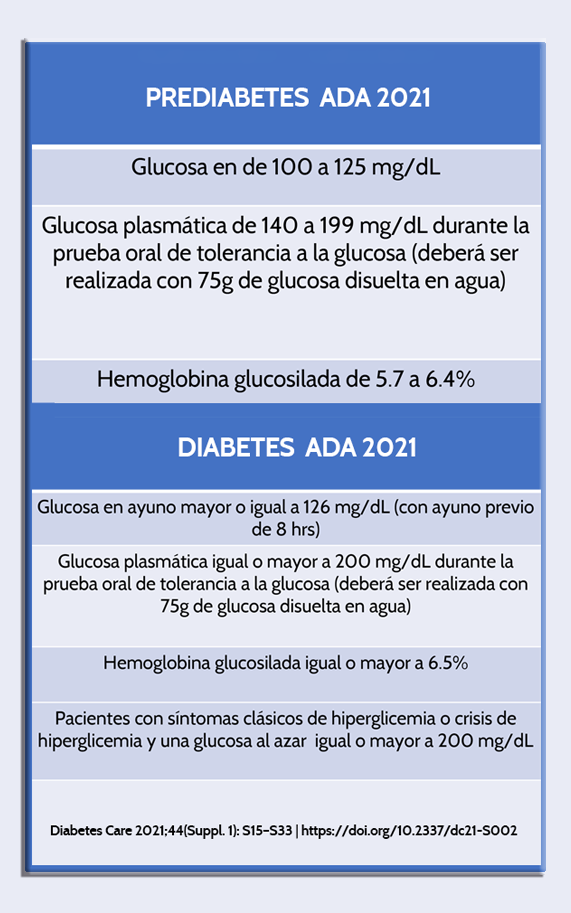 Adding knowledge is to the benefit of patients
Having clarified this point, this colleague commented to me: "is there a way of adapting the recommendations on diet and physical exercise to each person without just giving general guidelines that we could give to any person? I wanted to know in more detail what she was referring to, and she told me: "I know that it is possible to know the genotype of the patients in order to be able to make a personalized and precise approach".
This colleague explained to me that it is increasingly common to see that many guidelines and recommendations are not effective in some people and that she had read that "genes are responsible for all this and much more". Taking advantage of her interest, I was able to tell her that it is possible to study the genes (technically the genotype) of patients in order to specify personalized recommendations in terms of nutrition, physical exercise, drugs and other emotional aspects (sleep, stress) so that the result obtained is a success.
Everything that you dietitians-nutritionists do in the office, without a doubt in an unbeatable way, in terms of nutrition, physical exercise, modifications/improvements of lifestyle habits, can be complemented with the support of the medical perspective, and genetics that today allows us to make a type of pharmacological, nutritional, supplement and physical activity recommendations to be taken into account by you in your offices to adapt and design guidelines not only individualized but personalized to each one: unique, precise.
That's right, nowadays this is possible. And it can be done in a very simple way, without difficulty or discomfort for the patient or for the professional.
In this way, we established a bond and we agreed that if she had any medical doubt she would contact me again and she asked me to explain in detail how to handle the genetic study because she was clear: "I want to offer my patients excellence in care and obtain positive results".
Since then, there are already several people who have been referred to me by this colleague for consultation and have been studied at the genetic level, and I know that everything provided by both of us is proving to be effective in these patients.
Like this colleague, I extend my hand to you so that we can make a collaborative approach with the aim of providing the best to each of our patients.